CRITERIA & SELECTION
Elite Guard
- Age 25 – 55 years  (as per client's request).
- Academic – SPM and above
- Computer literacy
- Attended special training tailored according to clients' needs
- Preferably ex-Armed Force, Police Force or other uniformed body
-Well-trained personnel ("Kursus Asas Kawalan Keselamatan" by SSAM/MIS under the supervision of a certified trainer).
- Physically and mentally sound (Medical Check Up).
- No criminal records (Pass Police screening and vetting)
- Active in sports (an advantage)
- Smart & Disciplined
Regular Guard
- Age 25 – 60 years  (as per client's request).
- Academic – SRP and above
- Able to read and write
- Preferably ex-Armed Force, Police Force or other uniformed body
- Well-trained personnel ("Kursus Asas Kawalan Keselamatan" by SSAM/MIS under the supervision of a certified trainer).
- Physically and mentally sound (Medical Check Up).
- No criminal records (Pass Police screening and vetting)
- Active in sports (an advantage)
- Smart & Disciplined
FACILITIES GIVEN TO SECURITY PERSONNEL
Autopay System for Salary (BCBB and BSN).
Employees Provident Fund contributions
Social Security  Organization  (SOCSO) contributions.
Personal - Group Insurance
Annual Leave (for those who are eligible)
Sick Leave (for those who are eligible)
Free Medical (for those who are eligible)
Hostel
Transport
TRAINING
In order to cultivate and produce security personnel that are well-discipline and credible, we have taken the responsibility to ensure that all our staffs/personnel  attend  basic courses conducted by SSAM/MIS. All the courses are conducted and trained by certified instructors.
All the courses are attended and supported by Royal Police Force, Fire and Rescue Department, Civil Defence Department and Panel of Expertise from related field.
Every course/syllabus offered includes:
Introduction to the Security Services (Industry)
The Roles and Responsibility of Security Personnel
The Law and limitations of Security Personnel
Discipline – Appearance & Attitude
Vehicle check
Standing Order
Effective Roundings
Customer Service
Self-Defense
"Crime Scene"
Fire Prevention and the knowledge of using various fire extinguishers
Emergency Procedures & Religious Issues
Knowledge in Security System & Equipment i.e. CCTV, Alarm System, etc.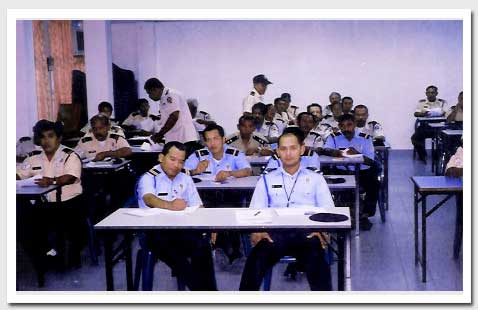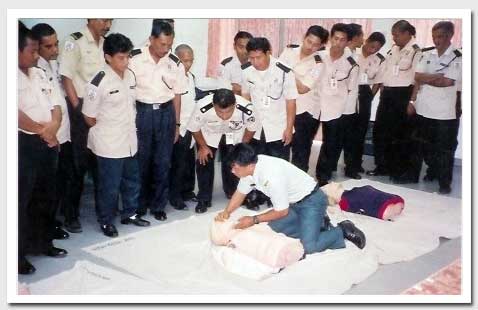 WELFARE & MOTIVATION
Welfare
Guaranteed EPF & Socso Contributions
Insurance coverage
Medical (for those who are eligible)
"Dermasiswa Zakat" for Academic Rewards for Employees' children
Festival Monetary Gifts (Hari Raya, Tahun Baru Cina dan Deepavali)
Personal loan (transport, emergency)
Family Day
Motivation
Increment
Bonus
Award (Employee of the Year Award)
Letter of Appreciation